6 local small stock farmers come together, all breeding out of Bushra Stud genetics
Inaugural Diamond Fire Sale hosted on the 25th of March 2022 at Stockman's Choice Auction Pens in Tlokweng, with floor and online (CDP Online) bidding
Botswana record broken for Kalahari Red Ewe by Bushra Stud at a whopping P64,000.00!
Remarkable success with 15 animals being exported out of Botswana, including to Zimbabwe for the first time
The inaugural Diamond Fire Sale certainly did not fail to deliver, bringing the heat with 64 remarkable gems in the form of Kalahari Reds, Boer Goats and Dorpers from a renowned local network of young Batswana farmers. Hosted at Stockman's Choice Auction pens in Gaborone, and with both floor and online bidding, the latter via CDP Online. 6 breeders, including Bushra Stud, Hennie Schutte Dorpers, Johannes Mokoka Boer Goats, OGS Stud, Lebonesang Stud and RedBoer Stud collaborated for the sizzling auction, attracting an incredible crowd to fill all seats at the reputed Auction Pens. A total of 109 buyers were registered on the night (43 online and 66 on the floor), including bidders from Namibia, Zimbabwe and South Africa.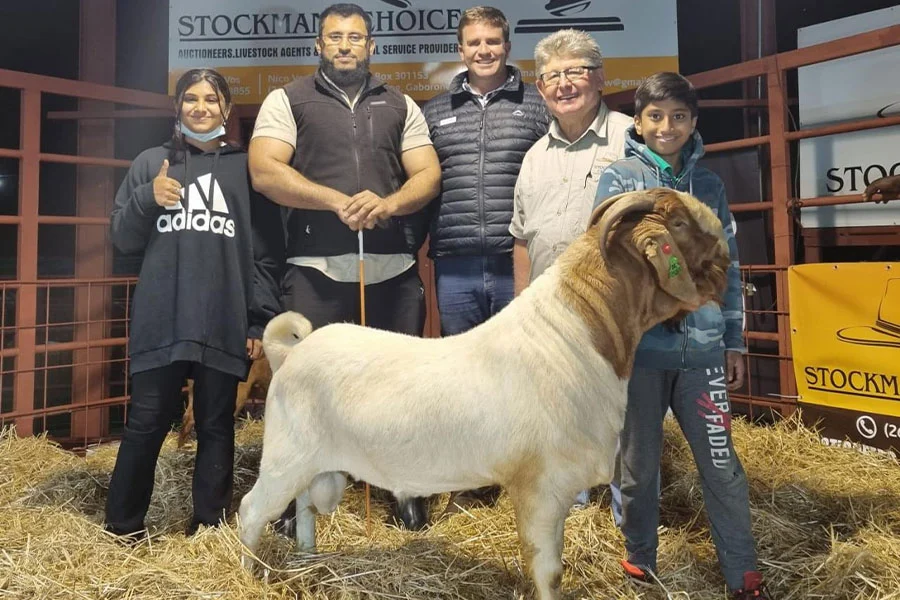 The primary purpose of the sale was to create a platform for young Batswana small stock breeders, many of whom are peers and customers of Bushra Stud and breeding out of Bushra genetics, to benefit from greater exposure and platform to market. This in turn helps celebrate the incredible genetics now being continued across Botswana, taking the industry to the next level in every way.
Said Otsile Molefhe, a buyer on the auction, "It was a privilege to be in such great company for this sale, amongst fellow farmers we respect so highly. We are grateful to the Bushra Stud team for leading this initiative, and for all in showing such commitment. Relentless aggression and passion towards achieving a goal no others before us have, it is a simple formula: create a product, sell it to the highest bidder, collaborate with those that buy and improve it then repeat…you all win, then repeat."
The sale was a success in every regard, with a number of firsts and specials:
LOT 22, 7-20-140, a "Homeboy" daughter, was sold for P64,000-00 in a new Botswana record for a Kalahari Reds Female. The stunning ewe was sold by Bushra Stud to Van Rooyen Kalahari Reds Stud in Lephalale, South Africa. Homeboy sold in November 2021 for a record P105,000.00
15 animals from the auction were bid on by buyers outside of Botswana, and will now be exported:

8 to Zimbabwe – these are the first Botswana goats ever being exported to Zimbabwe from Botswana
2 to South Africa
5 to Namibia

An average price of P17,742.00 per goat on sale, a tremendous feat with almost every animal on the night sold
"It was a privilege for Redboer Stud to be a part of the Diamond Fire Sale. Championed by Bushra Stud, this was a clear demonstration of working together for the betterment of the small stock industry. This is what we deem taking care of your product!" said Naomi Kgotlana of Redboer Stud, one of the sellers on the auction.
The purpose of the sale was clear from the onset. Commented lead organiser, Faheem Kala of Bushra Stud, "We are so proud to stand amongst so many professional and passionate farmers such as these, and to come together and unite towards a common purpose. It is incredible to see so many of our peers now breeding out of Bushra genetics and bloodlines, and indeed producing such a calibre of excellence that we too are buying from them. This is how we all advance together, celebrating each other's triumphs."
Key sponsors of the event included Haskins, Agrifeed, Integrated Veterinary Services, African Agriculture, Veld-Master, Magnum, Feeds and Energy Systems. "Thank you to all of our breeders, buyers, crew, supporters, sponsors and indeed auctioneers, CDP Online and Stockman's Choice. They have made the inaugural Diamond Fire Sale a night to remember. May the flames keep burning, the gems keep sparkling, and our collective passion to take small stock breeding excellence in Botswana only grow stronger," concluded Kala.