GABORONE – Stanbic Bank Botswana today launched its much-anticipated and indeed strategic Africa-China Trade Solutions (ACTS) & TradeClub offerings. These have been designed to engineer even greater access and progress for those in the trade ecosystem, especially when it comes to cross-border trade within the Africa-China corridor. The Bank remains committed to driving Botswana's growth, and empowering businesses in the spirit of It Can Be, with the duo of solutions as demonstrative of this unwavering ambition, particularly given the many challenges faced by businesses across the globe as a result of COVID-19 and the daunting impacts this has had on trade.  
Said Honourable Molebatsi Molebatsi, Assistant Minister of Agriculture and keynote speaker at the launch, "It is important to utilise these platforms and solutions. Let us unlock the possibilities they offer and ensure the ecosystem we speak of and economic inclusion bear fruits to the Nation. We are not here today simply to launch two solutions. We are here to change the narrative of the future for SMMEs and Botswana businesses." 
Said Calistas Chijoro, Stanbic Bank Botswana Head of Business and Commercial Clients Segment, "As Stanbic Bank Botswana, we are constantly looking for new ways to add value for our clients. With businesses the world over recovering from the effects of the Covid-19 pandemic and current war in Ukraine, this is no different in Botswana. We wholly believe that supporting small to medium enterprises through a conducive and enabling environment, together with innovative solutions and products from partners within the financial services, is to support exponential growth. Thus, we reaffirm our commitment towards helping Batswana build their legacies and driving Botswana's growth, and ACTS and TradeClub are further demonstrations towards realising this goal."
Africa China Trade Solution (ACTS) offers local Entrepreneurs and SMMEs a seamless connection to Africa-China Trade, helping them connect to China-based Suppliers and Manufacturers to make the import process simpler. ACTS provides Stanbic Bank Botswana's clients who import goods and services from China to exclusive access to an accredited import partner in China. This import partner assists local importers with access, assessments, and communication with suppliers and vendors, and manages the process of importing quality goods and services efficiently and safely from China. It is, simply put, a seamless connection. Since the process is supported by Standard Bank Group and the Industrial and Commercial Bank of China (ICBC)'s letter of credit, African importers have sufficient time to land and sell goods before effecting payment. At the same time Chinese suppliers can remain confident of payment underwritten by an ICBC letter of credit in China.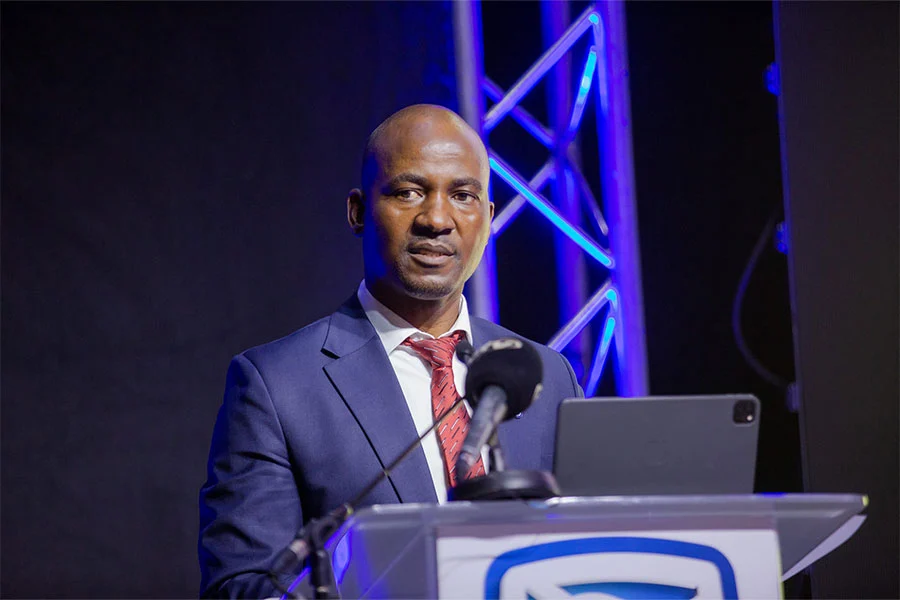 Customers can connect to growth opportunities through strong relationships and resources in China through ICBC; access to reliable partners who can assist with sourcing suppliers, validating quality of goods and shipping logistics; finding and connecting with a variety of suppliers; assistance with navigating language and cultural barriers encountered in trade; and support in navigating regulations and logistics.
After initial rollout in 2020, Stanbic Bank and Citizen Entrepreneurial Development Authority (CEDA) entered into a partnership to give CEDA clients access to the ACTS solution. The partnership enables CEDA clients to source their inputs, raw materials and machinery from China with reduced risks and challenges. Stanbic Bank Botswana uses the ACTS facility to provide solutions to challenges that CEDA-funded projects encounter when importing goods and services from China. Such problems include language barriers, price negotiations, non-delivery of goods and supplies of sub-standard goods. Since inception the partnership saw the conclusion of 117 transactions valued at BWP240m.
TradeClub is a digital platform that offers clients access to other markets beyond the Africa China Trade Solutions (ACTS) facility and is a free service for all Stanbic Bank Botswana existing Current Account holders. It assists local importers with access, assessments, and communication with suppliers and vendors, and manages the process of importing quality goods and services efficiently and safely. It further allows vetted clients to be listed as exporters and be able to connect with potential customers across more than 45 jurisdictions worldwide. The solution is offered free of charge (terms and conditions apply) and is a testimony of the Bank's focus on supporting Small, Micro and Medium Enterprises (SMMEs) to enable them to grow by accessing more markets, more suppliers through the secure TradeClub channel. Crucially, the platform enables business growth within the regulatory restrictions put in place because of the pandemic.
Concluded Akofang Kebonye, Stanbic Bank Botswana Head of Trade and Africa China Banking, "We are proud to have a strategic partnership in place with the world's largest bank, Industrial and Commercial Bank of China (ICBC), which gives us unrivalled competitive advantage for Africa-China trade. With experience in regulations and numerous Africa growth sectors, as well as strong partnerships with African government and businesses, Stanbic Bank Botswana is perfectly positioned to link our businesses to growth opportunities in the African and Chinese economies. We facilitate capital flow and cross-border trade between Africa and China with great proficiency, by virtue of ICBC's financial and global reach and Standard Bank Group's deep expertise and heritage in Africa."
These solutions are intended to compliment Botswana's leap into the fourth industrial revolution (4IR) by enabling rapid industrialization to establish manufacturing capacity as well as facilitating digitalisation on trade. In the spirit of It Can Be, Stanbic Bank facilitates access to markets in Africa and the rest of the world. With the advent of the Africa Continental Free Trade Agreement, intra-Africa Trade offers incredible opportunities for Small, Micro and Medium Enterprises (SMMEs) to access new markets and grow.