Online tickets for Standard Bank Luju Food & Lifestyle Festival 2022, as well as glamping and camping, are now on sale. The festival will take place from Friday 30th September to Saturday 1st October 2022, at House On Fire in the beautiful Malkerns Valley of Eswatini.
Tickets may be purchased via the Luju Festival website: www.lujufestival.com. A limited number of discounted tickets will be available for the Early Birds who get there first!
Look out for the announcements on Luju Festival and House On Fire social media. Please note that all Luju tickets are valid for the full two-day festival, and tickets will not be sold at the gate.
| | | | |
| --- | --- | --- | --- |
| Ticket Type | Early Bird | Phase 1 | Phase 2** |
| Full Fest Premium Lounge | R950 | R1,200 | R1,500 |
| Full Fest Luju Gardens | R400 | R450 | R600 |
| Full Fest Children (ages 6-12)* | R150 | R150 | R150 |
Children aged 5 and under enter for free.
Full price Phase 2 tickets come on sale when Phase 1 tickets sell out.
The Standard Bank Luju Food & Lifestyle Festival is a two-day feast of music, fashion and culinary exploits. A unique and sophisticated African vintage styled celebration of the local, the wholesome, the creative, and the delicious, this family-friendly festival is a sensory experience unlike any other.
The Luju ethos is "A Return to the African Future," which pays homage to and celebrates Africa's beauty and style, through all our senses, from the past to the present and onwards to the future. It's a journey of the senses, a re-imagining of our heritage, and a sneak preview of the design innovations of tomorrow.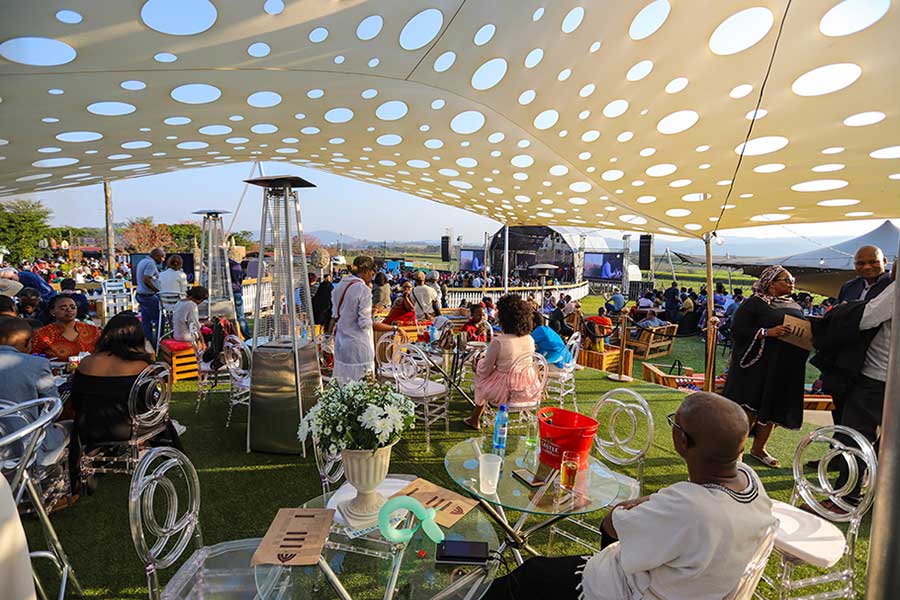 Enliven your Luju experience by glamping or camping at the festival this year and stay safely on site in luxury Luju style with exclusive glam-camping facilities or ready erected tent options!
Rush Adventures glamping offers very stylish tent hotel accommodation close to the main arena of the Luju Festival. With a private walk-in tent, comfy twin beds, linen, chairs and tables, en suite shower and toilet, as well as breakfast, this is a one-of-a-kind ultimate camping experience right on the festival's doorstep, saving you from driving anywhere.
All Out Africa has a variety of 2-person ready erected tent options next to the Luju arena, including The Beehive Camp as well as The Canvas Camp, situated in a shaded forest area. A limited number of larger Canvas Camp tents with power points are also available.
Artist and programme announcements will follow soon, so be sure to keep up with the Luju Buzz on social media: @lujufestival on Facebook & Twitter, and @luju_festival on Instagram!