Airing Monday – Friday on Cartoon Network Africa at 16:45 CAT, the highly anticipated animated series, Garbage Boy and Trash Can, is already a big hit with young audiences across the continent.
Created by Nigerian animator Ridwan Moshood, this innovative show marks the first Cartoon Network superhero animated comedy series produced in Africa. With its fun, light-hearted tone, exciting adventures, and imaginative storytelling, Garbage Boy and Trash Can promises to be a delightful treat for children of all ages.
We caught up with Ridwan Moshood, the creative mind behind the series, who shared his experience in bringing Garbage Boy and Trash Can to life.
"This experience became a joy for me, particularly as someone with limited team collaboration experience. It also provided a valuable learning opportunity, allowing me to gain valuable insights and skills along the way." The animated series Garbage Boy and Trash Can was commissioned by Cartoon Network Africa after Nigerian animator Ridwan Moshood won the CN Creative Lab initiative. It was produced in collaboration with Pure Garbage, a South African-based animation production company specifically launched for the project.
At the heart of Garbage Boy and Trash Can is the superhero duo. Garbage Boy, despite lacking superpowers, possesses an unusual perspective – he sees potential in everything, even garbage. For this character, Moshood drew inspiration from his fascination with creativity and the ability to transform ordinary things into something extraordinary. Through Garbage Boy's adventures, the series aims to convey five key messages to young audiences: creativity and imagination, environmental awareness, resilience and optimism, self-discovery and self-worth, and the value of community and teamwork.
Accompanying Garbage Boy is his sidekick, Trash Can, an alien robot with infinite intellect. "The choice of Trash Can as Garbage Boy's companion came from the visual association between garbage and a trash can. Trash Can compliments Garbage Boy's personality, adding wit and support and comedic charm to the series," says Moshood.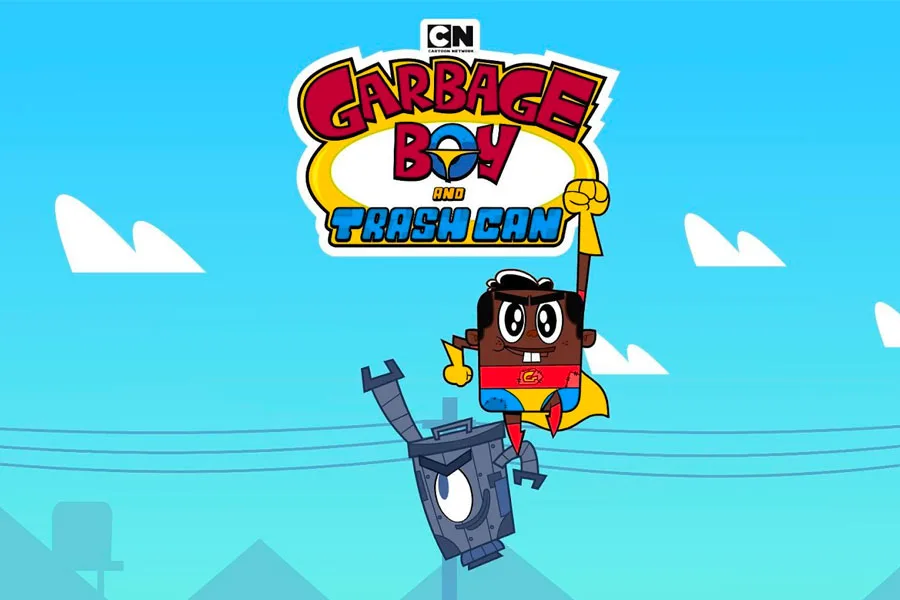 The series also introduces formidable enemies in boredom and Dr. Sore Eyes. "Dr. Sore Eyes is one of the few who believes Garbage Boy possesses superpowers. Driven by a desire to seize control of the city, he sees Garbage Boy's abilities as the key to achieving his grandiose ambitions."
Moshood also highlighted the comedic element brought by Dr. Sore Eyes: "Viewers can expect to be entertained and amused by his eccentricity and obsession with capturing Garbage Boy. His wild inventions and unconventional schemes will bring laughter to the series."
Drawing inspiration from beloved cartoons such as Dexter's Laboratory, Garbage Boy and Trash Can pay homage to Moshood's childhood favourites. Vibrant and exaggerated character designs, bold colours, and distinctive shapes and proportions create visually appealing and memorable characters that resonate with young viewers.
Young fans can look forward to Garbage Boy and Trash Can embarking on training missions that challenge their abilities and encourage teamwork, providing valuable life lessons along the way.
There has been a significant rise in focus in African-produced animated series, which has presented amazing opportunities to use local artists as Voice Actors on international productions. In July, Disney+ announced the use of Zimbabwean-born, Botswana raised radio presenter Simba Mudereri as the voice of Jojoba in the streaming platforms new series, Kizazi Moto.
Similarly, during their time at the Cannes Film Festival, young Batswana filmmakers, Nikita Mokgware and Serena Mmifinyana presented their concept for an animated series called 'Dimo in the Sky' which combines Setswana folklore with the art of animation, set for an international stage. The time is now for African creativity and the animation space is certainly reflective of that with the likes of Garbage Boy and Trash Can.
Tune in to Cartoon Network Africa Monday – Friday at 16:45 CAT to join Garbage Boy and Trash Can on their extraordinary adventures demonstrating the power of imagination and the value of looking beyond the surface to find something extraordinary in unexpected places.
Get connected, stay connected or upgrade your DStv subscription to ensure you don't miss any of the latest and greatest kids' edutainment! To upgrade, reconnect or manage your subscription download the MyDStv app on your mobile app store or visit www.dstv.com to join in on the excitement and manage your account. You can also catch all the edutainment while on the move. Stream all matches on the DStv App by downloading it from the app store.