Diacore Botswana, a diamond cutting and polishing company's initiative to donate three (3) revolutionary OrCam devices to Mochudi Centre for the Blind, a prominent centre for those with various visual challenges, including blindness, based in Mochudi and one (1) device to Botswana Association of the Blind and Partially Sighted (BABPS) has been celebrated as a commendable effort towards improving the lives of those with visual disabilities. The OrCam devices, which combine artificial intelligence and image recognition technology, can indeed provide significant benefits and enhance independence for visually impaired individuals.
The Assistive Technology strives to ensure the empowerment of visually challenged individuals by providing them with tools to access printed texts, recognize faces, identify products, and more. This technology can greatly improve their daily lives and increase their sense of independence. OrCam's small and discreet design, combined with its capabilities for text recognition, facial recognition, product identification, colour recognition, barcode scanning, and currency recognition, makes it a versatile tool for various daily activities.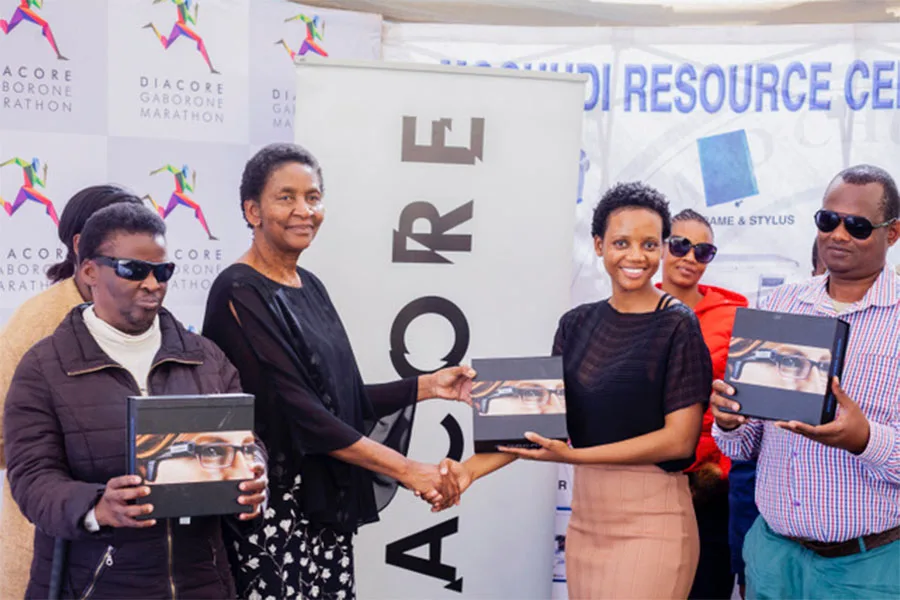 Ms. Tebatso Menyatso, Manager of the Mochudi Centre for the Blind, emphasised the transformative impact of this technology on the lives of visually impaired individuals in Botswana. "The devices have been integrated into programs at the centre, and more devices are welcomed as they grow their support base. "
Wendy Mafusi' is one beneficiary of the Centre's donated devices. Her testimony highlights how the OrCam device has already made a positive impact on her life. "It helps me with reading, word pronunciation, and various tasks." Ultimately, it enhances her learning experience and social abilities.
Diacore Botswana's Managing Director, Mr. Kfir Teichman, expressed the company's commitment to making a meaningful difference in the community. "This initiative reflects the principles of corporate social responsibility by addressing a specific need in the community. The OrCam device is a true game-changer and this is what propelled us to procure more devices for the Centre."
A heartening example of how businesses can contribute to improving the lives of those with disabilities and foster inclusivity in their communities, these assistive devices have the potential to significantly enhance the quality of life for visually impaired individuals in Botswana, offering them greater independence and opportunities for personal development.
This sense of meaningful and long-term support is precisely what Diacore Botswana strives to deliver.